Vanilla Hair and Beauty - Facial Skin Care and Treatment
Our skin is our largest organ, performing several functions, including protecting us from invasion by foreign substances and serving as the transfer point for the release of toxins from our bodies. Facials are deep skin treatments that cleanse, rehydrate and rejuvenate the skin, apart from minimizing skin blemishes, acne, dry skin and, of course, wrinkles. Facials vary depending on your skin type, the kind of treatment you've chosen, the products used and the person's age. However, it is advisable to start having facials in your late 20's.

The skin provides an honest mirror of our inner health and well-being. It is thus especially important to use only natural, gentle ingredients on our skin whenever possible. Application to the skin of fresh, natural products such as essential oils, plant waters and cold pressed unscented oils helps maintain a youthful, glowing complexion.

Facials involve a cleansing procedure, a massage and steam, and the application of a face mask. What they help to do is remove the dead, dull outer layer of cells that make up the skin's surface or epidermis along with pollutants. The massage, which is an important part of a facial, helps blood circulation, which in turn aids lymphatic drainage (the removal of toxins and waste from the body). A facial massage also relaxes the facial muscles and is very important to delay the onset of wrinkles.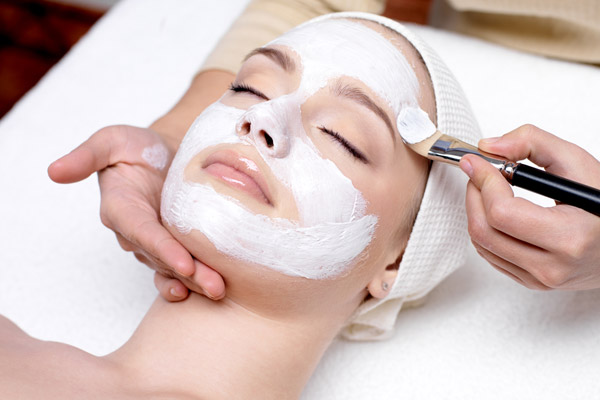 Luxury Facials
A luxurious facial to pamper your face. Cleanse tone and moisturise - to make your skin glowing and soft. We use Silhouette international products. The professional market leader in salon and spa treatments for over 30 years. All luxury facials are 60 minutes.
Rejuvenating Facial
A facial which is suitable for anyone who needs a lovely glow bringing back to their face.
60 minutes £40.00
Herbal - Anti acne and sensitive skins £40.00
Developed to combat acne and also for sensitive or oily skin. Balances, calms and tightens the pores, reduces redness and sensitivity as it stabilises the skin's pH balance.

Collagen - Anti wrinkle
Created using marine collagen which provides an immediate tightening effect, reducing and plumping out fine lines whilst replenishing tired tissue and leaving face much smother with improved elasticity and youthful firmness.

Repair Complex - Anti ageing for the 45+ £40.00
The latest in anti ageing formulas which prevent and repair collagen dehydration whilst protecting the skin and its coetaneous cells.
Makes ageing skin smooth, firm and younger looking.

Bofusion - Diminishing fine lines and wrinkles £42.00
This provides the most luxurious treatment of mature and stressed skin. The exceptional mask softens the appearance of lines and wrinkles by relaxing the sub dermal muscle which helps support lines that appear on the face and neck. The dynamic active ingredient reverses peptide, which blocks the enzyme responsible for muscular contractions. It tightens facial tissue plus facial lines, and wrinkles begin to diminish so your skin takes on a whole more youthful texture and appearance with improved elasticity and glow.
Facials
Soothing Facial
This facial revives tired skin and brings back the glow in your cheeks.
30 minutes £20.00

Prescription Facial
A complete treatment for the face which includes cleanse, tone, exfoliation, massage and mask, using products designed for your skin type.
40 minutes £26.00
Skin-Lite - uneven skin tone and pigmentation £40.00
Specially developed to work on combating irregular pigmentation marks, age and sun spots, leaving skin with a fresh new radiance.
Microdermabrasion
1 treatment £25
course of 3 £70
course of 6 £130
course of 9 £200
1 hour including Mask and Arm Massage
1 treatment £40.00
Course of 3 £100.00
Course of 6 £190.00
Course of 9 £270.00
Microdermabrasion is a system of intense exfoliation and resurfacing using ultra fine crystals that rejuvenate the skin. Anyone will benefit from microdermabrasion treatment. It improves the overall appearance of the skin giving skin a healthy glow and youthful appearance. Great for treating:
Ageing skin
Acne
Acne scars
Pigmentation
Blemishes
Dull, dry skin
Fine lines
Wrinkles
Uneven skin tone
Blackheads
Open pores
Dermaplaning
Provides deeper product penetration
Removes soft facial hair that traps dirt and oil Promotes smoother skin.
Safe procedure for removing dead skin cells and "peachfuzz"
Reduces the appearance of acne scars.
Diminishes the look of fine lines.
Works on all skin types
Dermaplane 30 mins £20
Dermaplane 1hr £30
Add ons to mask facials
AHA Glycolic Acid Peel £5.00
Removes thickened upper layer, rejuvenates production of collagen and elastin. Improves elasticity and tone, leaves a fresh radiant complexion and improves moisture level of epidermis. Diminishes pigmentation and spots, and sheds away uneven skin texture. Immediate results, although a course of 6 is recommended (at reduced rates, booking of 6 @ £25.00).

Enzymatic Peel £5.00
When applied the cornea coat is removed, eliminating dead skin cells and reoxygenating the new epidermis as its protein digestive action continues. The skin will present a more youthful, fresher and smoother dimension. Ideal for sensitive skins. Immediate results although a course of 6 is recommended (at reduced rates, booking of 6 £25.00).

Vitamin C eye treatment £5.00
To help puffiness and shadows.


Can be added to any above for £5.00

Vital Eye Treatment £13.00
This works on digitopressure points around the eyes to help with fatigue, undereye shadows, crows feet and fine lines.